Anechoic Box
No. 1 share in domestic sales of anechoic box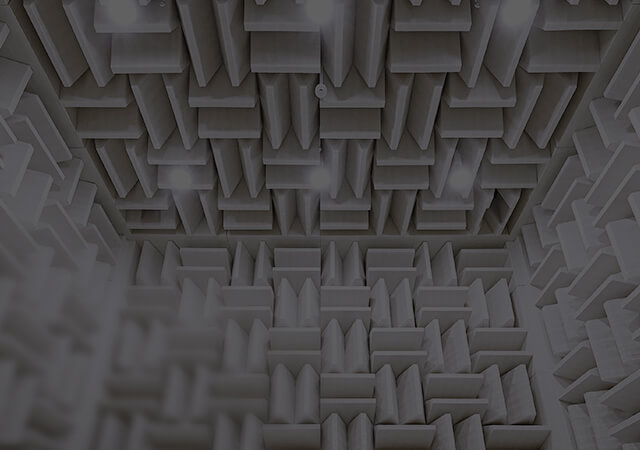 Product Overview
Anechoic box is a small acoustic box which have the feature of high sound insulation( transmission loss) and sound absorption. It's applied to measuring the noise of a product, inspecting the abnormal sound, quality control, research and development.
Utilizing our noise control technology, we developed special multi-layer panel. Over the past 9 years, we have proposed, designed and manufactured over 300 units according to a wide various using purposes and specifications. The high sound insulation performance with guarantee performance is unrivaled compared with other companies.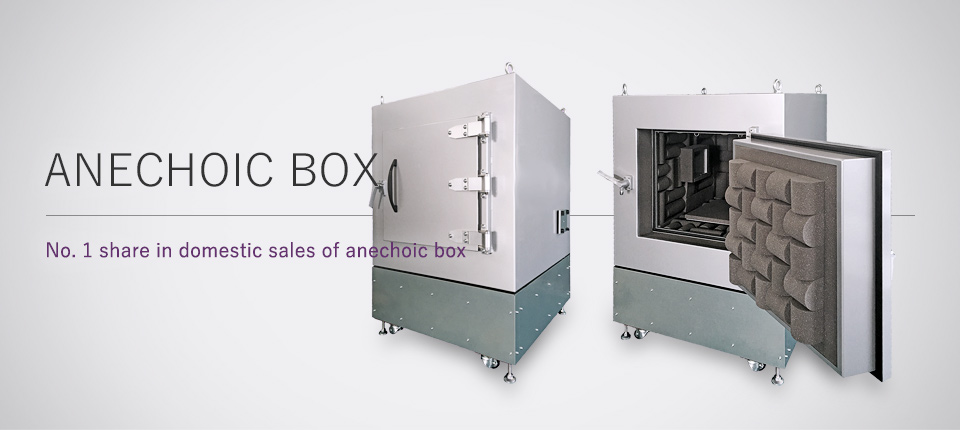 | | |
| --- | --- |
| Measuring Target | communication information equipment, Precise instrument electronic components, nanotechnology-related products, environment-related products. |
| Measuring Purpose | abnormal sound detection, research and development, acoustic measurement for product performance, vibration analysis, environment test, etc. |
| Measuring Machine | general, precise noise meter, FFT analyzer, vibrometer, various acoustic evaluation equipment, etc. |
※ Anehoic box is using R&D measurement. And optimized according to user's measuring method and specifications.
About Lead Time
Usually, the lead time is about 30 days after order.
It may change depending on the operation of the factory, so negotiated with us by any chance. In addition, the manufacturing period will be longer than the lead time when an anechoic box door is applied to an electric situation or as an option of coupling specification, etc.
About Installation
Our installation works are not necessary.
Basically, transportation methods are: crane truck unloading, truck transportation without unloading. Since the anechoic box is equipped with casters, it can be manually moved to the installation location. We will check the transportation route, the load of the elevator, steps and maintenance since the anechoic room is heavy. And we can also undertake transportation, delivery and installation.
※ Can be exported to overseas.
Type/ Price
Anechoic boxes are available in TYPE 1 to TYPE4 specifications. But basically, we'll design according to the size of the user's measuring subjects, measurement method and workability. There are many examples such as using the drive mode (electric, pneumatic, hydraulic) to open and close the door, addition of lighting and BNC socket, and the setting position of microphone adopts free configuration.
Type
Effective (mm)
External Dimensions (mm)
Price
Anechoic box TYPE-1
W400 × L450 × H400
W850 × L850 × H850
Please contact us
Anechoic box TYPE-2
W600 × L650 × H600
W1050 × L1050 × H1050
Anechoic box TYPE-3
W800 × L850 × H800
W1250 × L1250 × H1250
Anechoic box TYPE-4
W1000 × L1050 × H1000
W1450 × L1450 × H1450
Free type (customized products)
Free
Free
According to dimensional proportion
※ The freight is not included.
※ An inexpensive anechoic box out of the specification can be manufactured as well.
Specification
Sound Insulation (Transmission Loss) / dB
Top-class sound insulation performance is guaranteed.
The sound insulation performance of an anechoic box is unrivaled comparing with other companies. The background noise in an anechoic box can even close to 0 dB depending on the installation environment. An advanced acoustic measurement space can be realized by introducing our anechoic boxes.
Sound Insulation (Transmission Loss) / dB
Hz
31.5
63
125
250
500
1K
2K
4K
8K
Sound Insulation
(24)
(34)
39
43
51
55
63
64
62
Guarantee value
Actual value
29.1
46.2
44.9
44.7
61.8
64.1
71.7
75.6
80.1
Manufactured by a company
—
17
20
27
35
40
45
—
—
About Sound Insulation Performance
We can guarantee the sound insulation performance by using a noise signal generator, speaker, general noise meter or precise noise meter, measuring (transmission loss test) according to JISA1417:2000. And submit the test result as a "Measurement Result Report".
Other Specification
dedicated base (height can be changed)
devibration pad × 4-point support
sound absorption layer: AST sound absorption material + backside sound absorption layer
double-shielded sound insolation door
utility pipe : inner diameter 55 × 2
hanging hook M8×4
test panel : steel (sound absorption) t4.5
sealed handle, operating handle
die-casting rotary ascending hinge
adjuster, caster
eyebolt M20-24
sealed gasket
baking paint of outer layer: standard color (silver) or specified color
※ According to the work content, drawer test board, lighting and socket can be added.
※Please ask the drawings for detail.
Examples of additional options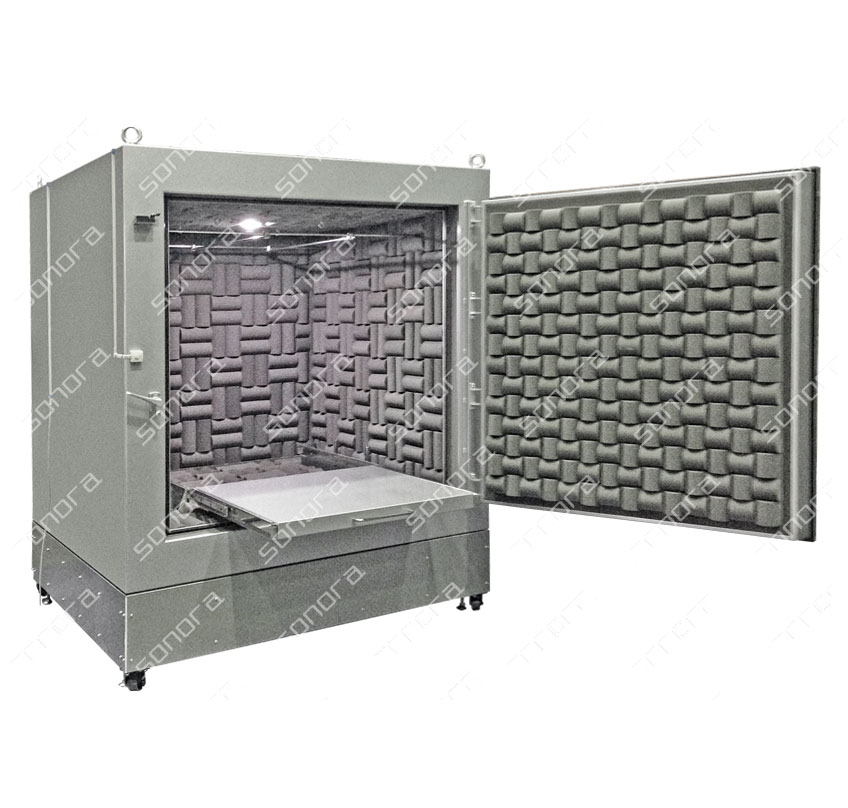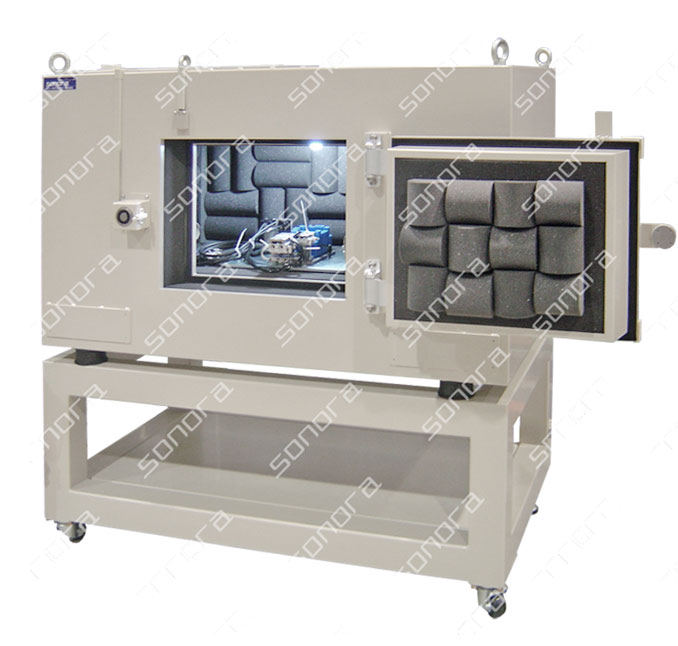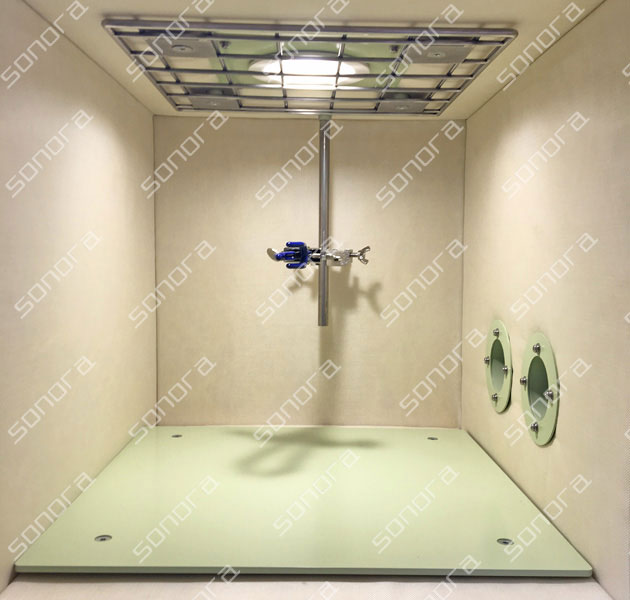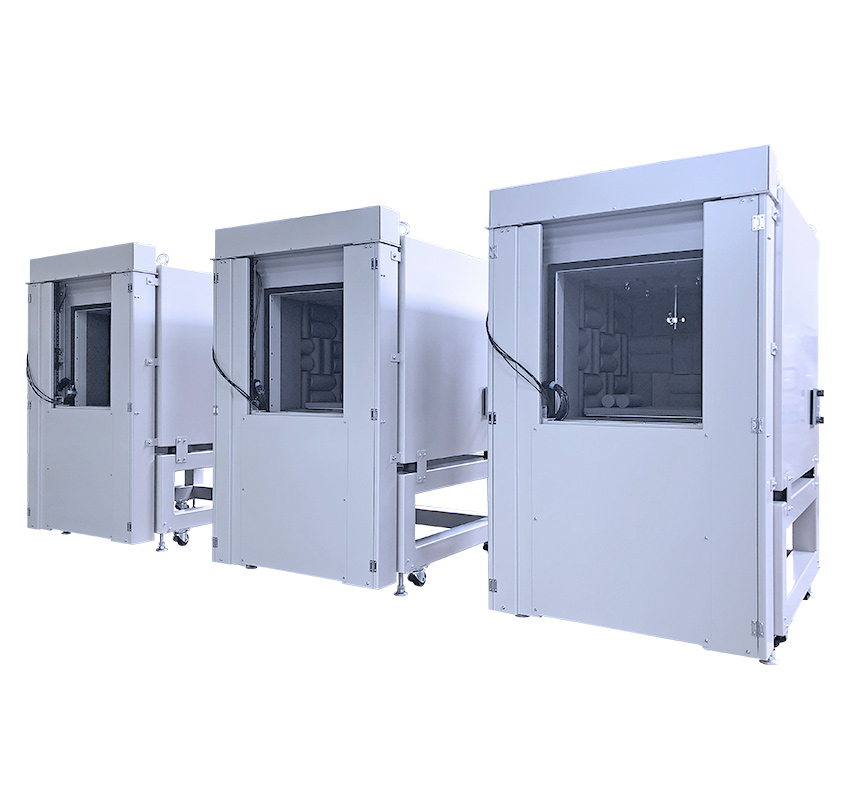 Option
Abstract
Reference Price
Noncombustible material for interior
Pacification AST sound absorption material (flame-retardant material)
↓
Glasonic( noncombustible material)
0 yen~
Free clamp for microphone
Changing the hanging bolt
0 yen~
Limit switch
Door part
5,000 yen~
Various additional design expense
Additional options design drawings
0 yen
Openings for additional wires
Diameter 60.5・89.1・101.6
0 yen~
Sliding door
Sliding rail heavy drawer
75,000 yen~
Rotating table
Position can be adjusted
65,000 yen~
Lightning・ switch
60W・ 100W
50,000 yen~
Measurement mesh
SUS304・50 pitch
20,000 yen~
Grounding grid
SUS304・50 pitch
20,000 yen~
Outlet
100V ・ 2
29,000 yen~
On-site assembly of an anechoic box
main body separate processing( one divides into two)
400,000 yen~
Load-bearing dispersive floor material
Installation site when there is no load capacity
80,000 yen~
Internal remote operation
silent cylinder ・ remote control, etc.
quote individually
Temperature control device
Internal cooling ・ air-exchange device
quote individually
Special sound insulation widow
200×400 sound insulation structure
140,000 yen~
Double door
Double sealed structure
Depending on the type
Automatic door
Hydraulic ・ button type ・ inductive type
quote individually
Enhanced sound-absorbing performance
Change sound absorption material
quote individually
Change the position of wire opening
‐‐‐‐
0 yen
Change the height of the dedicated table
‐‐‐‐
0 yen
Specified color baking paint
‐‐‐‐
0 yen
Clean room compatible
‐‐‐‐
quote individually
Dimension change
‐‐‐‐
quote individually
Reverberation measurement set
Reverberation + anechoic system
quote individually
Acoustic measuring instruments
Noise meter + PPF analyzer
quote individually
Others
Generally, the lead time is about 30 days ※It may change depending on the operation of the factory, so please negotiated with us.
Our installation work is not necessary. The transportation is a 4-ton unique vehicle (crane)
Sound absorption material does not deform (fire-proof material). And it can be changed to a noncombustible sound-absorbing material.
With completed books( design drawing, instruction manual, transmission loss test data)
Proposals about noise meter or analyzer
The shape of the box and its sound absorption coefficient can be changed according to the acoustic measurement objects.
We can test the sound insulation performance individually to ensure sound insulation quantity.
Compare with other companies, we are proud that our sound insulation performance is top class.
Materials Download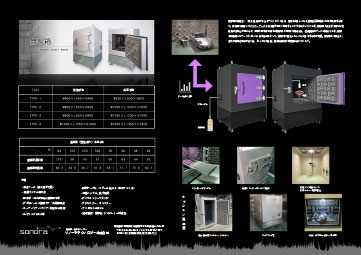 You can download the PDF file from here
CONTACT

Contact us by phones
Inquiry form
SHOW ROOM

Introduction of Sonora Showroom

Sonora Technology, a manufacturer of anechoic chambers and soundproof rooms that providing service all over the country is based in Toyko, Shizuoka, Aichi, Hyogo. We have an in-house integrated system from acoustic measurement, research, diagnosis to design, manufacturing, construction and guarantee. In addition, we have showroom which has anechoic room and soundproof room at "Mt. Fuji Technology Center" in Gotemba city. Using the measuring facility in practice, you can check the high performance of our products while experiencing the unique anechoic space. Besides the showroom, there are videos of the company introduction and you can visit the factory as well. There are almost no institution opening anechoic room for free in Japan. It can also be used outside of business, such as those who are considering purchasing our products, those who are interested in us, the general public and the media, please come by any chance.

About 15 minutes from Gotemba IC on Tomei Expressway, 1157-332, Hotozawa, Gotemba, Shizuoka, 412-0046
TEL +81-3-6805-8988 / eFAX +81-3-6740-7875 (common to all branches)
All products come with a one-year warranty. And we will immediately deal with any malfunction caused by defects in our design, manufacturing and construction. Furthermore, welcome to contact us for relocation, remodeling and maintenance, etc.
CONTACT

Inquiries and Pamphlet Requests

About Sonora Technology products, please contact us from the inquiry button for inquiries. If you want the materials by mail, please contact us from the pamphlet request button.