Assembled Anechoic Room
No. 1 share in domestic sales of assembled anechoic rooms/ semi-anechoic rooms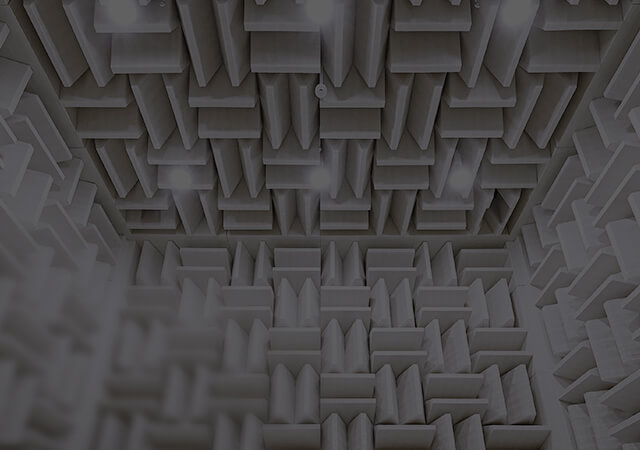 Product Overview
The assembled anechoic room consists 6 surfaces, using Sola metal panels and absorbing wedges on the wall, ceiling, floor. The regular anechoic room uses concrete, plaster board, special cloth type sound-absorbing wedge. But our anechoic room has the advantage of assembly, low price, high accuracy and relocation. In addition, the new developed X type can achieve the best effect in the smallest space.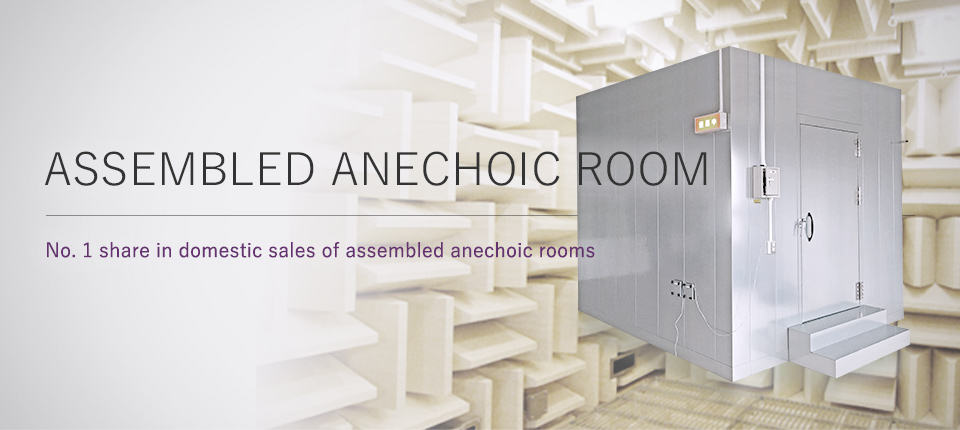 | | |
| --- | --- |
| Measuring Target | precise instrument, auto parts, electronic components, nanotechnology-related products, environment-related products, etc. |
| Measuring Purpose | acoustic power level, acoustic intensity measurement, abnormal sound detection, acoustic measurement for product performance , etc. |
| Measuring Machine | general or precise noise meter , FFT analyzer, vibrometer, various acoustic evaluation equipment, etc. |
About Lead Time
Usually, the lead time is about 60 days after order.
It is shortest around 60 days if it's a standard product size. Please contact us as it may change depending on the operation of the factory. There are many anechoic room orders especially in the busy period. So the lead time of the large anechoic chamber which is over the standard size will be longer.
About Installation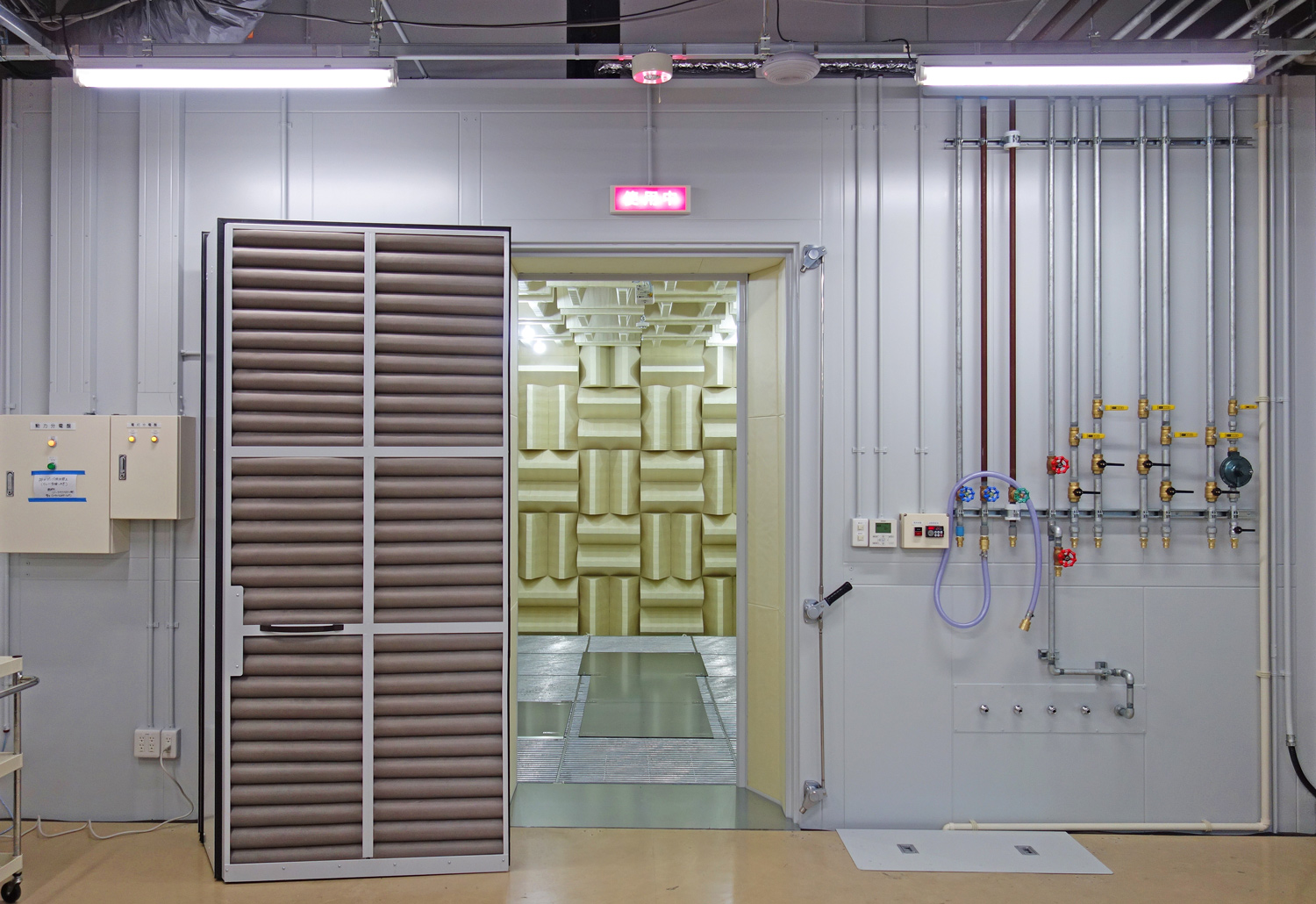 Because of the prefabrication system, it is possible for a short-term construction on site.
The soundproof panel and frame of an assembled anechoic room are manufactured in the factory site and will be assembled at the construction site. Unlike the traditional concrete or board construction, the small size can be manufactured in a few days and the large size can be done in 1 to 2 weeks.
※ we have many overseas export and assembly achievements.
Type/Price
The specifications are just for reference, customize from scratch.
There are 3 types of specifications. But basically, we'll design from scratch, according to the size, measurement method and workability of the user's acoustic measurement object. We can meet all kinds of requests, such as installing a crane, flattening the bottom of the door so that there is no step when carrying in, controlling temperature and humidity in an anechoic room, and conducting a wind tunnel test.
Assembled Anechoic Room
Type
Wedge
Effective (mm)
External Dimensions (mm)
Price
X-1
HV02W
W2000 × L2400 × H2450
W2700 × L3100 × H3260
Please contact us
X-2
HV02W
W2400 × L3000 × H2450
W3100 × L3700 × H3260
X-3
HV02W
W3000 × L3600 × H2450
W3700 × L4300 × H3260
S-1
T-250
W2000 × L2400 × H2450
W2700 × L3100 × H3200
S-2
T-250
W2400 × L3000 × H2450
W3100 × L3700 × H3200
S-3
T-250
W3000 × L3600 × H2450
W3700 × L4300 × H3200
H-1
T-500
W2000 × L2400 × H2450
W3200 × L3600 × H3700
H-2
T-500
W2400 × L3000 × H2450
W3600 × L4200 × H3700
H-3
T-500
W3000 × L3600 × H2450
W4200 × L4800 × H3700
Free Type
Other designs: it's inexpensive beyond the specification. Feel free to contact us
Means
Top-class sound insulation performance is guaranteed.
The sound insulation performance of the anechoic room is unrivaled comparing with other companies. The background noise in an anechoic room can even reach to 0 dB varying depending on the installation environment. An advanced acoustic measurement space can be realized by introducing our anechoic chamber.
Sound Insulation (Transmission Loss) / dB
Sound Insulation (Transmission Loss) / dB
Hz
63
125
250
500
1K
2K
4K
8K
Guarantee Value of Sound Insulation
X
(25)
30
36
40
49
53
55
54
S
(28)
35
41
45
51
55
57
56
H
(32)
40
46
50
56
60
62
61
Actual Value of Sound Insulation
X
36.8
52.4
55.3
61.8
66.2
70.0
79.3
79.9
S
42.4
43.0
53.9
67.1
67.7
71.9
75.4
84.9
H
34.8
51.0
63.5
69.8
73.8
78.3
81.6
88.1
About Sound Insulation Performance
We can guarantee the sound insulation performance by using a noise signal generator, speaker, general noise meter or precise noise meter, measuring (transmission loss test) according to JISA1417:2000. And submit the test result as a "Measurement Result Report".
Measurable Range / m
Calculate the Measurable Range
Hz
63
80
100
125
160
200
250
Measurable Range / m
X-3
0.29
0.46
0.68
0.91
1.13
1.62
2.84
S-3
0.14
0.17
0.22
0.29
0.43
0.53
0.95
H-3
0.35
0.51
0.82
1.55
3.14
3.14
3.14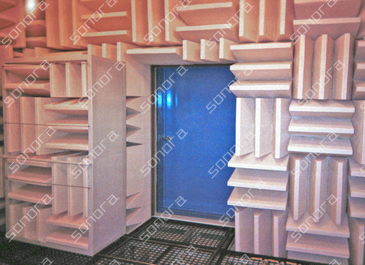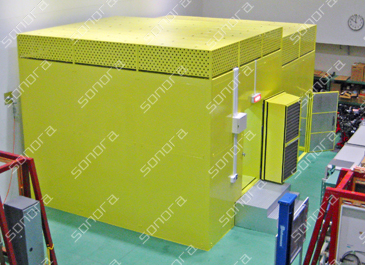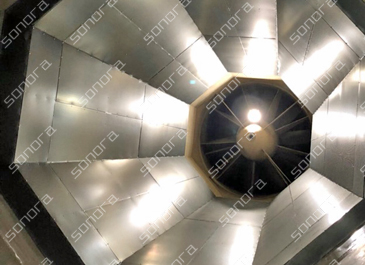 Other Specification
Specification
X
S
H
・compact wedge HV02W: sound-absorbing wedge thickness 310mm
・Sola metal panel sound insulation: 3TS65
・noncombustible sound insulation wedge T-250: sound-absorbing wedge thickness 250mm
・Sola metal panel sound insulation: 3TS65
・noncombustible sound insulation wedge T-500: sound-absorbing wedge thickness 500mm
・Sola metal panel sound insulation: 3TS65
Request a Blueprint for Details
・single swing soundproof door: inner wall sound absorption layer
・grating: (galvanized) bearing capacity of over 200kg
・vibration isolation layer
・utility pipe diameter 65+ internal and external sound insulation cover
・microphone hanging hook
・air intake diffraction silencer
・air intake diffraction silencer
・anechoic EA filter
・completed paper( drawings, specifications, etc.)
・bulb type LED lighting
・outlet 100V- 3P- 2 outlets
・indicating light 10w "in use " characters
・sirocco fan + flexible silencer duct
・switch box distribution board
・secondary electric equipment wiring works
・sound insulation volume measurement, report of measurement results
・inverse square measurement, report of measurement results
Option
air conditioning equipment
monitor
signal light
BNC socket
interphone
various alarm devices
fire alarm
shockproof design
Others
All anechoic room structural materials are using non-combustible materials
Perform background noise and frequency analysis measurements on the construction site to set the guaranteed value.
With completed books( sound-absorbing feature data, design drawing, instruction manual, transmission loss test data)
present a proposal of noise meter or an analyzer.
We will change the dimensions of the anechoic chamber and adjust the sound absorption performance as well according to the installation layout.
Can be relocated
The lead time depends on the operation of the factory, so please contact us.
Data Download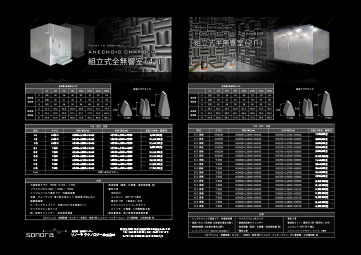 CONTACT

Contact us by phones
Inquiry form
SHOW ROOM

Introduction of Sonora Showroom

Sonora Technology, a manufacturer of anechoic chambers and soundproof rooms that providing service all over the country is based in Toyko, Shizuoka, Aichi, Hyogo. We have an in-house integrated system from acoustic measurement, research, diagnosis to design, manufacturing, construction and guarantee. In addition, we have showroom which has anechoic room and soundproof room at "Mt. Fuji Technology Center" in Gotemba city. Using the measuring facility in practice, you can check the high performance of our products while experiencing the unique anechoic space. Besides the showroom, there are videos of the company introduction and you can visit the factory as well. There are almost no institution opening anechoic room for free in Japan. It can also be used outside of business, such as those who are considering purchasing our products, those who are interested in us, the general public and the media, please come by any chance.

About 15 minutes from Gotemba IC on Tomei Expressway, 1157-332, Hotozawa, Gotemba, Shizuoka, 412-0046
TEL +81-3-6805-8988 / eFAX +81-3-6740-7875 (common to all branches)
All products come with a one-year warranty. And we will immediately deal with any malfunction caused by defects in our design, manufacturing and construction. Furthermore, welcome to contact us for relocation, remodeling and maintenance, etc.
CONTACT

Inquiries and Pamphlet Requests

About Sonora Technology products, please contact us from the inquiry button for inquiries. If you want the materials by mail, please contact us from the pamphlet request button.