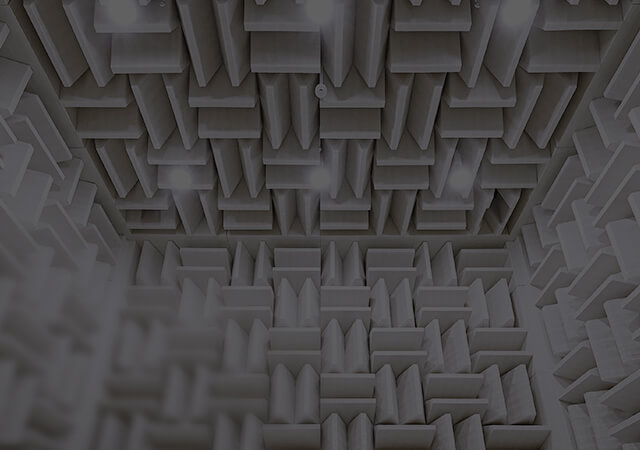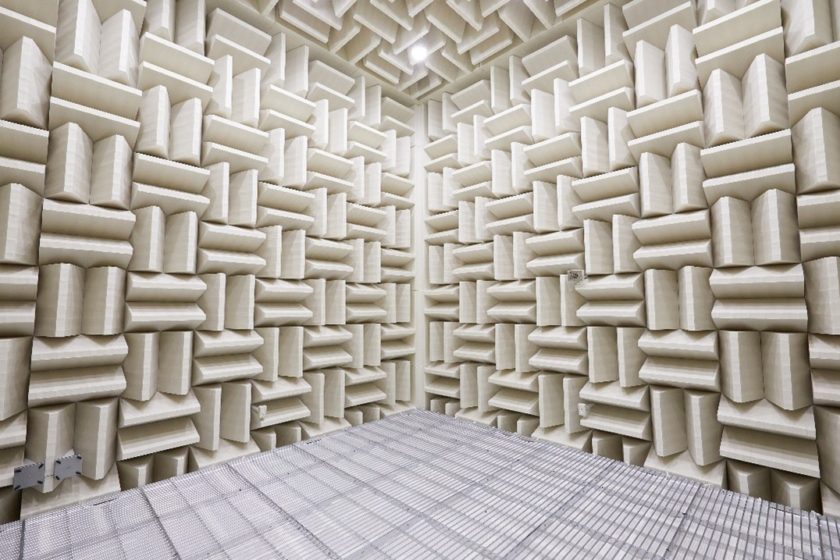 #1 Low Profile and Space-saving
Sound insulating layer
composed of in-house developed steel sound insulation panels. Only 40mm to 150mm thickness depending on the required sound insulating value. Feasible significant space savings, compared to the concrete layer as conventional construction method.
Sound absorbing layer
Composed of in-house developed sound absorbing wedges. High sound absorption despite its low profile. Selected according to the required sound absorption performance. 60% to 80% lesser thickness compared to the conventional products. Space-saving design.
#2 Ready-to-assemble
Ready-to-assemble frames and panels enable dismantling and relocating. It also makes reducing costs when changing layouts. Excellent dimensional accuracy due to prefabrication in factories.
#3 High Performance
Sonora Technology guarantees sound insulating value and sound absorption performance. High performance despite low profile. Our anechoic chamber is second to none.
#4 Premium Quality
All component parts are manufactured in factories in Japan. Ensure premium quality with the state-of-the-art equipment. "MADE IN JAPAN."
#5 Competitive Price
Workflow automation in production processes. Competitive price thanks to space-saving design avoiding unnecessary costs. Less expensive than the offered prices by other companies in terms of the same conditions.
#6 Delivery Record
Since 2003, Sonora Technology has achieved to deal with 1,024 companies, mainly among Japanese major private companies, and concluded with 3,229 deals
during around 20 years.
#7 Expertise and Effective proposals
Sonora Technology has been satisfying clients' requirements as a leading manufacturer of the ready-to-assemble anechoic chamber in the Japanese market. Since our foundation, we have been overcoming various challenges with a strong mind-set. Thanks to that, now we possesses the right expertise, unique technologies and various kinds of strengths. We are confident to make effective proposals.
CONTACT

Contact us by phones
Inquiry form
SHOW ROOM

Introduction of Sonora Showroom

Sonora Technology, a manufacturer of anechoic chambers and soundproof rooms that providing service all over the country is based in Toyko, Shizuoka, Aichi, Hyogo. We have an in-house integrated system from acoustic measurement, research, diagnosis to design, manufacturing, construction and guarantee. In addition, we have showroom which has anechoic room and soundproof room at "Mt. Fuji Technology Center" in Gotemba city. Using the measuring facility in practice, you can check the high performance of our products while experiencing the unique anechoic space. Besides the showroom, there are videos of the company introduction and you can visit the factory as well. There are almost no institution opening anechoic room for free in Japan. It can also be used outside of business, such as those who are considering purchasing our products, those who are interested in us, the general public and the media, please come by any chance.

About 15 minutes from Gotemba IC on Tomei Expressway, 1157-332, Hotozawa, Gotemba, Shizuoka, 412-0046
TEL +81-3-6805-8988 / eFAX +81-3-6740-7875 (common to all branches)
All products come with a one-year warranty. And we will immediately deal with any malfunction caused by defects in our design, manufacturing and construction. Furthermore, welcome to contact us for relocation, remodeling and maintenance, etc.
CONTACT

Inquiries and Pamphlet Requests

About Sonora Technology products, please contact us from the inquiry button for inquiries. If you want the materials by mail, please contact us from the pamphlet request button.